--Full Length Protection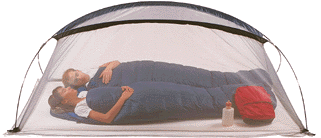 Our largest model-- a floorless luna-style net tent, ideal for indoor use in hot climates, TropicScreen completely encloses two people on the ground or one sleeper on a cot. Ideal for beach and picnics, too. It comes with 9-piece shock-corded poles and nylon carry bag.
Color: Grey netting with navy sleeves and stuff sack
Total weight: 37 oz.
Size: 93" x 54" x 34" high
Folded size: 21" x 4.5" diameter
Suggested retail price $58.
Replacement poles sets are $14.
---
(c) EPCO Design, 1996